Aprilie 2012
Eretmodus cyanostictus
Malasa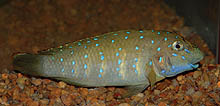 Still seemingly very popular among Tanganyika fans are the goby cichlids, especially Eretmodus. Here a male Eretmodus cyanostictus from Malasa Island, Tanzania, sporting blue dots along its head and upper body.
Tropheus sp. red Nsumbu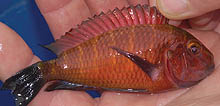 Caught off Nsumbu, Zambia is a red form of Tropheus similar to the Kachese variety to the west, but displaying deeper red coloration. These Nsumbu Reds were exported recently due to current popular demand for Tropheus.
By Cichlid News Magazine